Welcome to Rustic Fence, Inc.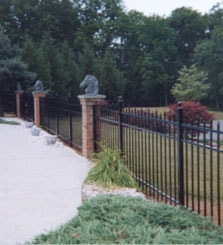 For 47 years, Rustic Fence Inc. has been one of the most trusted fencing contractors in Maryland serving Howard, Montgomery, Carroll, Frederick and Baltimore Counties. We strive to provide the highest quality residential and commercial fencing products and installation services to our customers. You'll speak directly with the owner — no pushy salespeople or middlemen. No matter what, we have the experts, resources and building materials to help you with your project.
Fence Products
We provide a complete range of fence products and services that will transform your yard into an ideal outdoor living space, perfect for entertaining and enjoyment. For our commercial customers, we can provide a wide array of fencing products for any need.
Services
Our services include providing fencing and installation for residential, commercial, athletic fields and facilities and more. We're not scared of difficult projects — custom enclosures, sloped yards, security fences — you name it, we handle it!
Your Satisfaction is Our Guarantee
Whether you're a professional builder, are all-thumbs, on a tight budget or just don't have the time, we have the right fence installation for you using the best quality products for our fence designs. Our team is known for their courteous and caring personality.
Areas We Service
Rustic Fence has provided residential and commercial fence and installation services since 1975. We're dedicated to providing you with the right solutions for all your fencing needs and serve clients throughout Maryland including the counties of Howard, Montgomery, Frederick, Carroll and Baltimore.