Wood Fencing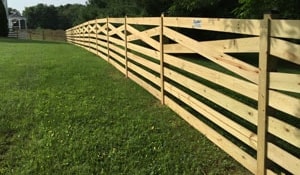 Rustic Fence, Inc. is a premier residential and commercial wooden fence builder serving Howard, Montgomery, Frederick, Carroll and Baltimore Counties in Maryland. Our wood fences can be seen all over the metro area providing privacy, security and long lasting beauty. We carry all styles and heights available, including such popular choices as split rail, picket and privacy. Here are just a few of the benefits to having Rustic Fence, Inc. build you a well-engineered and properly installed fence:
Adds privacy
Blocks excess wind or sunlight
Buffers unwanted noises
Enhances property value
Hides unattractive views
Highlights great views
Provides security and protection
Makes a safe play areas for kids
Contains the family pets
Rustic Fence, Inc. can design wood fences to serve all of these beneficial purposes, but mainly, a professional wood fence can create the atmosphere you want for your yard or business. Think about it: A tall fence can create a sense of intimacy, security and privacy. A small fence can nicely segment a garden, compost or storage area. Above all, the style of fence you choose should meet two purposes. It should be visually appealing and functional. Visit the photo gallery to see some of our custom built wooden fences and call us to get an idea of your own moving forward.
Wooden Fence Repair
If you have a damaged, weathered or just an old fence, we can help you. We have the ability to match your current fence if you're adding on or simply repairing a damaged section. Our experts can repair any fence and are happy to provide you with a firm, free quote. Contact us today for more information.
Why Choose Rustic Fence, Inc.?
We've been building and installing wooden fencing for decades now and our experience is accompanied by expert knowledge and craftsmanship. You don't have to settle for a simple wooden fence any more. We can craft a truly unique enclosure that matches your property and personal taste. You'll speak with the owners directly — no pushy salespeople or middlemen. Please feel free to look at our wood fence photo gallery and contact us for a free quote today!
100% Satisfaction
Family owned and operated since 1975, we've built our customer base through years of hard work and determination. We take great pride in providing you with top quality service and promise your complete satisfaction when choosing us for all of your residential and commercial fencing needs. Our company has developed and focuses on customer service practices based on courteous and professional service for all our clients.
Areas We Serve
Rustic Fence, Inc. has provided residential and commercial fence and installation services for over 40 years and services clients throughout the Maryland counties of Howard, Montgomery, Frederick, Carroll and Baltimore.
Fence Products
We're a full-service professional fence contractor providing a complete range of fence installations and fence repairs serving homeowners, general contractors, home builders, architects, landscapers and more. We have an outstanding reputation for service and workmanship and provide quality results on any size project. Our comprehensive product selection allows our customers to make educated height, style and material choices to best suit their fencing needs at competitive pricing. Be sure to visit our photo gallery!
Services
Rustic Fence, Inc. has extensive knowledge and experience with qualified staff and installation crews dedicated to the diverse needs of our customers. We're experienced working with a variety of customers from homeowners to municipalities to major area companies and provide fencing products and installation services for residential, commercial, athletic facilities and fields and farm and ranch. We also offer material sales and snow plowing services.